LED Light / Photodynamic Therapy Melbourne
Our photodynamic therapy is a minimally invasive treatment option for some types of superficial skin malignancies and premalignant lesions. We at Deluxe Clinic provide advanced led photodynamic therapy that helps to eliminate aberrant cells without the incisions, downtime, or scars associated with surgical skin cancer treatment.
We used to combine the topical medications referred to as photosensitizing agents with particular wavelengths of light. PDT is also applied in aesthetic settings to regenerate sun-damaged skin. Our PDT procedures have a high cure rate for superficial non-melanoma skin malignancies, are highly tolerated, and are rapid to complete.
We at Deluxe Clinic help to use LED light therapy that is highly recommended for reducing side effects from cosmetic procedures, hastening the recuperation process following surgery, and enhancing dermatological skin problems.
Treatments using photodynamic LED light therapy
Red light
We at Deluxe Clinic improve the look of scars, fine lines, and wrinkles using red and near-infrared light. Additionally, psoriasis, rosacea, and eczema can all be treated with it.
 Greenlight
The light energy improves the skin tone, lightens and eliminates existing pigmentation, and shields it against new stains. The skin's melanin-producing cells are affected by the green light. Our photodynamic therapy provides the best procedures that limit the overproduction of melanin and stop it from reaching the skin's surface. Fewer discoloration will result from the removal of melanin clusters by the technique.
Blue light
The LED blue light speeds healing, decreases inflammation and eliminates germs that cause acne. Steam and extractions, deep pore cleansing, enzyme exfoliation, and oxygen infusion are included. Additionally, blue light supports oil gland stability, reduces inflammation, and purifies the skin.
Yellow light
Redness, swelling, and inflammation look less conspicuous when exposed to yellow light. Rosacea and burns like sunburns can both benefit from this colour of light. Additionally, we at Deluxe Clinic are beneficial in treating aberrant pigmentation and lymphatic dysfunction and increasing circulation, and yellow light encourages the creation of red blood cells in the skin.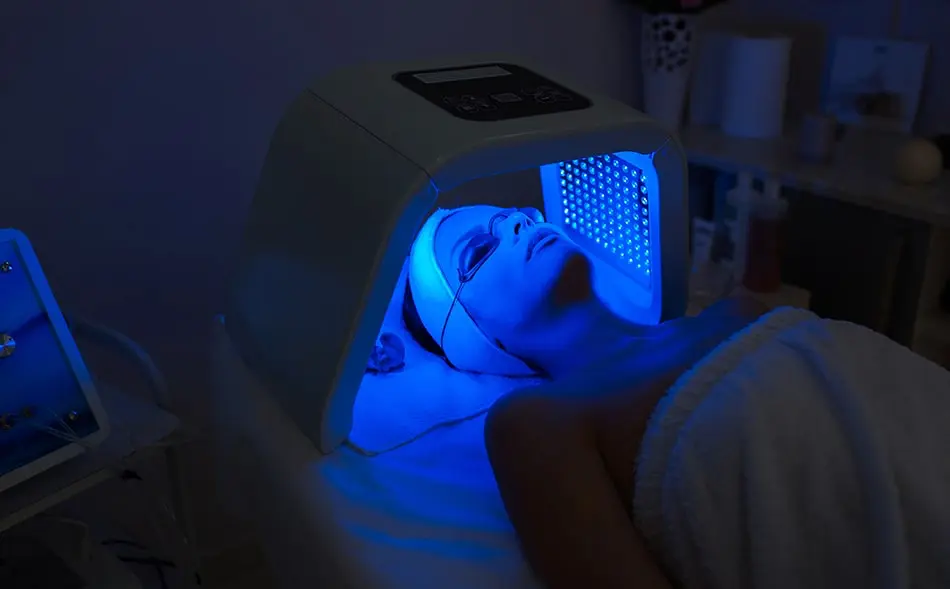 When do you have PDT treatment?
If you have thin non-melanoma skin cancer, you might have PDT. It might be used to treat:
BCCs, or basal cell carcinomas,

Squamous cell carcinoma in situ, or Bowen's illness

Solar keratosis
If surgery might alter how you look, your doctor might advise PDT. Therefore, if you have a vast skin cancer that is not too deep, you might have it or if you have several malignancies in one location. According to clinical studies, PDT improves the skin's look compared to surgery.
PDT is ineffective for treating skin malignancies with deep basal cells or squamous cells. This occurs because the light cannot penetrate the skin deeply enough. There is typically only one treatment for actinic keratosis. Two treatments spaced seven days apart are usually required for Bowen's disease or basal cell carcinoma. For a limited person, photodynamic therapy side effects will occur. Depending on your circumstances, your doctor will advise you to reduce side effects and get the best results.
How do you prepare your skin before PDT treatment?
For people with more severe sun spots, we advise using Urederm cream twice daily for the afflicted regions for two to four weeks before treatment. We at Deluxe Clinic will make it easier to cure low-grade skin cancers or solar keratosis by reducing their thickness. Additionally, your dermatologist can recommend a lotion to help you prepare your skin for therapy. It is always advised to use sun protection.
How quickly does LED light treatment start to work?
You usually require a series of in-office treatments to experience any real advantages. For roughly a month, you could need treatment once a week. Then you need maintenance procedures once a month or every few months.
Even more, time may be needed to operate some household equipment. You should use your gadget twice daily for 30 to 60 minutes for four to five weeks. Other gadgets only require a few minutes per day.
Top benefits of LED light therapy
For acne, sun damage, wounds, and other skin issues, LED light therapy is a popular non-invasive skin care option. The procedure uses light of various wavelengths to stimulate the skin's natural healing processes and regenerate skin. For more details, get in touch and get advanced light therapy for skin cancer with the best outcomes.