PRP hair treatment Melbourne
Deluxe Clinic is Melbourne's largest medical cosmetic clinic offering PRP hair treatment. PRP hair treatment is a non-surgical, accessible way to treat hair loss in men and women. You can visit our Melbourne clinic and start leveraging the power of PRP as the best hair treatment.
PRP Hair Treatment Experts
Our experts possess rich expertise and experience in providing "PRP hair treatment". They know how to handle different cases perfectly. Besides, they provide a custom hair treatment to meet personalised needs.
Proven Hair Treatment
We provide an effective and long-term solution for hair Treatment in Melbourne. Our hair treatment is authentic and certified. You can get the treatment without keeping any second thoughts in your mind. Moreover, the treatment will never harm your scalps or cause side effects.
PRP Non-Surgical 
Our clinic provides a non-surgical hair regrow treatment in Melbourne. In our treatment, platelets of your blood are injected into your scalp with a syringe. In addition, in the process of the treatment, none of our clients ever undergo any surgery.
 TRUSTED HEALTH PRACTITIONERS
Melbourne Hair Treatment Clinic
Platelet Rich Plasma (PRP) hair treatments can regenerate hair regrowth for both men and women. In this treatment, we target the affected area by using the patient's blood and use different hair growth factors to make the treatment more effective.
PRP hair treatments use a concentrated mix of your blood plasma. It can contain around 4x the amount of blood platelets of normal blood. Platelets in blood will help promote and heal the clotting, which allows to include growth factors throughout the body.
The basic idea behind PRP is to concentrate those platelets and growth factors that inject in concentrated form into damaged hair follicles. The injection can help heal those follicles and can promote hair growth.
PRP therapy is a non-surgical three-step process. Most PRP therapy requires three treatments for 4–6 weeks. Where  maintenance treatments are needed every 4–6 months. It is a very safe and effective way to regrow hair.
Step 1 : In the first step, Some blood is drawn from the patient's arms and put into a centrifuge (A machine that spins quickly to separate fluids of different densities) to make it more effective.
Step 2 : In this step, After 10 minutes in Centrifuge, your blood will be separated into 3 different layers, which includes
platelet-poor plasma

platelet-rich plasma

red blood cells
Step 3 : In the last step, platelet-rich plasma is injected into the affected areas of the scalp with the help of a syringe that needs increased hair growth.
PRP is most effective when you care for yourself properly before and after the treatment.
According to a recent studyTrusted Source, "Although PRP has enough theoretical scientific basis to support its use in hair restoration, hair restoration using PRP is still in its infancy. Clinical evidence is still weak."
COMPREHENSIVE CONSULTATION
Platelet-Rich Plasma Hair Treatment Cost
PRP injection costs in Melbourne vary significantly. The variation is due to different systems used, differing experience and qualifications of the performing practitioner, other clinical settings, and various methods being employed.
Single Session $379
7 Sessions Package $1999 $1575
10 Sessions Package (Recommended) $2699 $1999, Pay in 3 Instalments* Conditions Apply*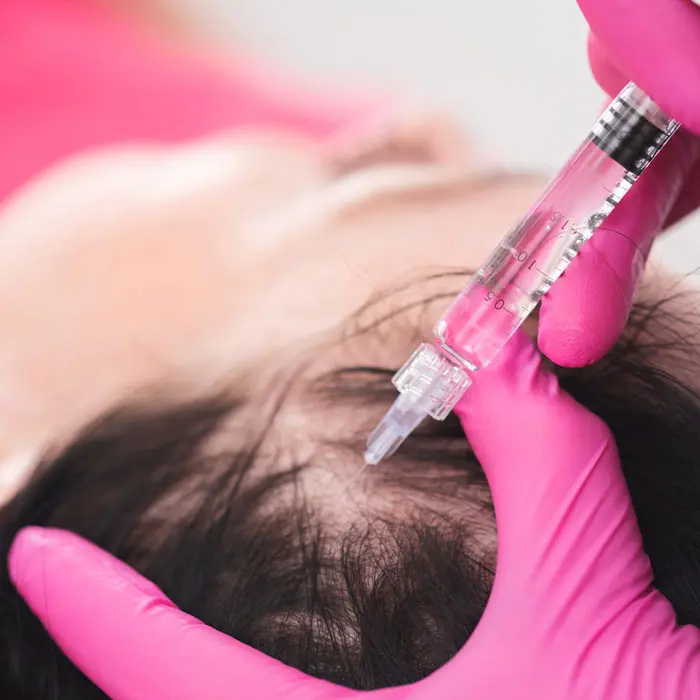 Young women with female androgenic alopecia or female pattern hair loss are becoming more prevalent. Platelet-rich plasma is an innovative and promising therapeutic approach for treating FPHL without surgery. It will cure hair loss by injecting your blood's stimulating growth factors into the scalp while separating red blood cells from healing white blood cells and platelets, essential for body regeneration treatments.
Nowadays, Every Man commonly experiences balding, male pattern hair treatment, receding hairline, and various types of balding as the age pass. Especially in cases of early androgenetic alopecia, this can harm their confidence and self-esteem. PRP injections can help you to treat male pattern baldness since they both stop hair loss and encourage the creation of new hair. Our hair treatment may also stimulate hair growth following hair transplants.
INJECTABLE PRP HAIR TREATMENT
PRP treats the following types of hair loss:
Androgenetic alopecia (male or female pattern baldness)
Alopecia areata
Traction alopecia
Telogen effluvium
​PRP injections can also prevent further hair loss and slow down the hair thinning and hair rate. Talk to one of our doctors if you are unsure of the type of hair loss you are experiencing.
BEST TREATMENT FOR HAIR LOSS
PRP Hair Treatment Melbourne Instructions
PRE CARE
Before your PRP Therapy session, our physician will discuss and guide you on what to expect during your treatment. However, it is essential to remember that there are a few things you must consider before the Session:
Five days before your procedure, discontinue all kinds of anti-inflammatory medications

One week before your procedure, stop any blood-thinning herbs or supplements

Stop using steroid injections one month before the treatment

Before treatment must take a healthy diet and intake plenty of water to stay hydrated
POST CARE
After your PRP Therapy session, we will recommend our patients to take rest on the day of their procedure. For the next 2 days, we advise you to make limited use of the injection area, but movement is encouraged. This helps the joint recover as the area's surrounding tissues absorb the injection.
0 – 3 days post-procedure guidelines
After your treatment, your PRP may experience mild to moderate pain and discomfort in the injection area. It is normal and shows that your body is appropriately healing and adjusting to the injection site. We suggest you stay hydrated pre and post-treatment because water will help promote healing. It would be best to not take any medications following your procedure unless directed otherwise by a physician. This is because medicine affects the healing process.
Therefore, discontinue use of any of these medications post-procedure for best results:
Anti-inflammatory medications for at least 4 weeks after the treatment procedure

Discontinue Blood-thinning herbs, supplements, or vitamins for 21 days

Systematic steroids for 6 weeks after the procedure
Other important guidelines to follow after your PRP procedure are:
Do not apply ice or heat to the injection area for 72 hours after the procedure.

After treatment, avoid hot baths or go to a sauna for the first few days.

After treatment, stop consuming any alcoholic beverages for 2 days. 

Avoid smoking
4 weeks post procedure guidelines
It would be best to gradually increase your daily activities at this point in your healing. This is showing best results when you can begin exercises. Proper exercise is vital to long-term effects, and we can help you determine which activities are best suited for your needs before your procedure.
If you feel discomfort, apply ice 3-4 times daily for at least 15-20 minutes as needed.

You can take Anti-inflammatory medications (Ibuprofen and Naproxen) to help manage residual pain now; take them as directed.

Do not use alcoholic beverages, smoke, or excessive amounts of caffeine.
5 weeks post-procedure guidelines
At the time of healing, we highly encourage you to begin physical therapy to aid your long-term healing and continued recovery. It is essential to make a follow-up appointment with your physician or medical team to review your healing process. You must keep the follow-up visit to determine whether your recovery is progressing.
Can PRP cause hair growth?
PRP may promote hair growth. Many happy clients who have undergone our PRP hair treatment have noticed considerable changes in their hair thickness and regeneration. There are no assurances with any medical procedure because we are unique and respond differently to treatments.
How can you manage hair after undergoing PRP treatment?
Make sure to use pH-balanced shampoo for the first three days. For at least six hours following your treatment, refrain from using hair products. After the procedure, take a hot shower and wash your hair to maximize the benefits of PRP. After your treatment, wait two days before using the sauna, steam room, or swimming.
How long does it take to see results?
Many people can start to notice hair regrowth within three months, depending on the condition of the hair. It can take up to 12 months to see a significant difference in your hair's overall thickness and quality.
How many PRP sessions will I need?
We generally recommend a course of three to five sessions, each one month apart, followed by annual top-up sessions.
However, the number of treatments and frequency can also vary depending on the patient's condition and initial treatment results.
How long does PRP hair growth treatment take?
PRP therapy mainly takes only 30-45 minutes. It begins with taking some blood and going for the centrifuge. Once concentrated, we carefully inject the platelet-rich plasma into the scalp; after this, you can leave the clinic and return to your previous life.
Who can perform my PRP treatment?
We strongly recommend patients check if their PRP provider performing the PRP hair or skin treatment is completed, at a minimum, a registered nurse. We have professional doctors who care for you throughout the procedure. Our Registered nurses are well-trained in patient safety and hygiene protocols.
Is there any downtime after the procedure?
You don't have to do anything differently after undergoing PRP therapy for hair regrowth. You can return to work, and you do a regular activity. You only have to follow specific post-care steps for better results. You won't be able to shampoo your hair.
How long does PRP hair restoration last?
You must complete a course of four to six PRP for effective results, and new hair will continue for around 18 to 24 months. Since PRP is not a long-term fix, touch-up treatments should be received once a year.
Does PRP cause hair to thicken?
PRP is incredibly safe since we use our white blood cells to stimulate hair follicles by injecting them into the scalp. Both men and women will have fuller hair and a reduction in the appearance of hair loss.
Is there any downtime when getting hair PRP injections?
There is no downtime with hair PRP. Hairs can be washed 24 hours after the PRP session. Patients who wish to dye their hair should wait at least a week after getting hair loss.
Who is a suitable candidate for PRP?
PRP works best for those with average or higher platelet counts. Both men and women are suitable candidates for PRP. There is a minimal chance that PRP could cause blood clots. Talk to your doctor about abnormal pain or headaches after therapy sessions.
Do scalp injections hurt?
No PRP injection doesn't hurt, as our expert team of doctors will have strategies and assure you will provide painless treatment.
How much do hair PRP injections cost?
Hair PRP Injections Cost $199 per session We recommend booking an Appointment with our Experienced and Skilled Nurses to determine suitability The consultation is free. You can the first session straight after the consultation
Will PRP work if I'm completely bald?
This procedure is usually the best option for people with mild to moderate hair loss. Because PRP help in promoting natural hair growth, it can only work only on those people who have a good health history if you have active hair follicles that are still active. Men who are entirely or almost completely bald have inactive hair follicles or hair follicles that no longer exist.
Why Our PRP hair treatment is different from others?
Our PRP hair Treatment Melbourne has created a tested procedure to guarantee that each patient receives the best care possible and sees the desired results. We promise to deliver a results-driven experience.
We treat more skin diseases, or we provide PRP vampire facial Melbourne, and trained nurses do our procedures yearly.
Our treatments are effective and secure for all skin kinds and tones.
We also increase facial volume and fill in fine creases and wrinkles.